Netball
Vitality Netball Superleague: Loughborough Lightning banish demons to end 15-year title wait | Netball News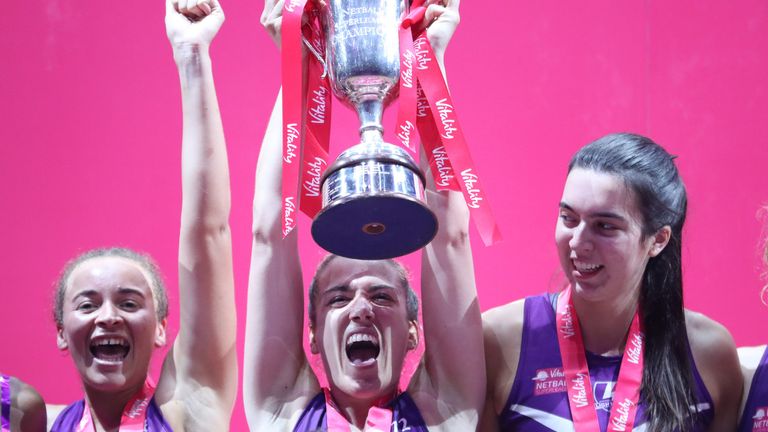 Loughborough Lightning's 15-year wait for a first Vitality Netball Superleague title is finally over, and it was ended by an extraordinary Grand Final performance under the most intense of spotlights.
The first Vitality Netball Superleague Grand Final took place at Guildford Spectrum in 2006, it was contested between Team Bath Netball and Mavericks and that season Loughborough Lightning finished in fourth place.
Two years later, Lightning reached the Grand Final for the first time. After leading 21-14 at half-time, a tricky third quarter allowed Mavericks back into the game, and the full-time whistle marked Lightning's first taste of Grand Final heartbreak.
Little did they know that it would be nine years before they took part in the season-defining match again, and even then, victory would elude them. Back-to-back losses to Wasps in the 2017 and 2018 finals hurt, and the second final was rocked by Beth Cobden's ACL injury.
In short, Grand Finals and finals weekends were not Lightning's friend – until this season.
Listing Lightning's losses is not to remind them of the bad times, instead it's to reinforce how hard they have worked to enjoy the celebrations on the court at the Copper Box Arena on Sunday night.
Captain Nat Panagarry, who excelled during finals weekend, Hannah Joseph and Cobden all experienced both of the recent back-to-back final defeats, and went through the agony of seeing the latter's horrific injury in 2018.
And yet, despite Sara Francis-Bayman openly saying that many of her players had entered the 2021 finals weekend with "that little devil on their shoulder" reminding them constantly of the losses, Lightning triumphed.
In Round 20, Lightning had impressed by dismissing Team Bath Netball by 19 goals… top position in the table was on the line that day, but it wasn't knockout netball.
Then, after managing the best and worst day of the year – namely semi-finals Saturday – they showed their mental resilience to silence those doubts and beat Bath by 17 goals, this time when everything was on the line in the final.
"The girls were excited to play today, they looked like they played with much more freedom," Francis-Bayman said, while wiping away the tears after the full-time whistle at the Copper Box Arena.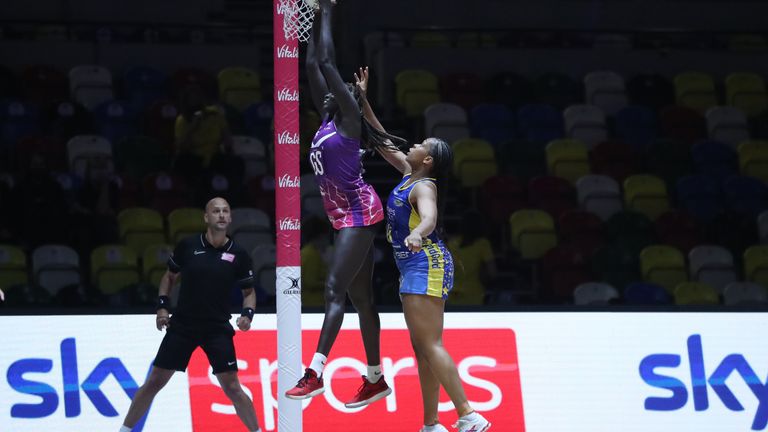 "To be able to come out play like that, when you've got that doubt in your mind because you've lost finals before, for those guys to attack it like that, I couldn't be prouder of them.
"There are so many stories in this team; Sam May's last game, Beth Cobden coming back from horrific injuries and those who have suffered two or three final losses for Lightning. So, to do that today and the way that they did it, that's why you see that outpouring of emotion.
"You had Olivia Murphy on the bench who was player No 1 for Loughborough Lightning as well and has been waiting 15 years for this."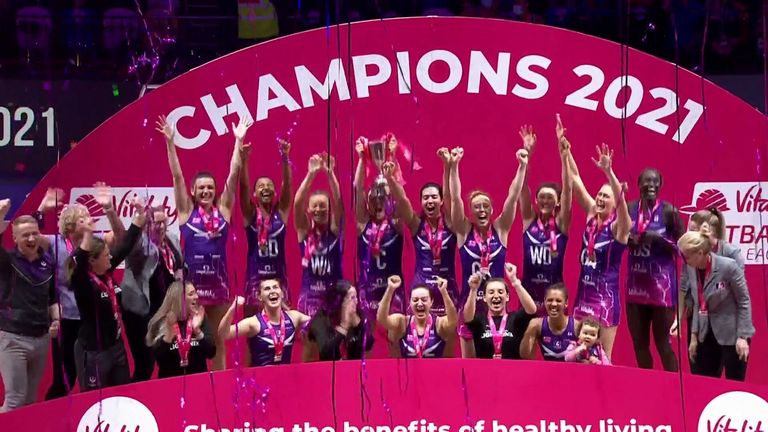 For the club, it will be really positive going forwards because you don't feel like you're trying to prove yourself anymore.
Sara Francis-Bayman (Image credit – Morgan Harlow)
"I was so nervous that I probably only knew that we'd done it with about three minutes to go. Then, I was thinking do we put people on, but I then thought that we just couldn't… I just lost the plot! I was boiling hot, but I couldn't take my jacket off because I'm superstitious… I was falling apart on the bench, who knows what was happening?!"
Francis-Bayman's account of the final minutes perfectly illustrates her passion as a director of netball and a head coach. The former player and international is always unapologetically herself and she leads her players in the way that she'd want to be led.
The 36-year-old has the respect of her peers, all of Superleague's players and those watching at home, due to her knowledge, tactical ability, straight-talking and people management skills.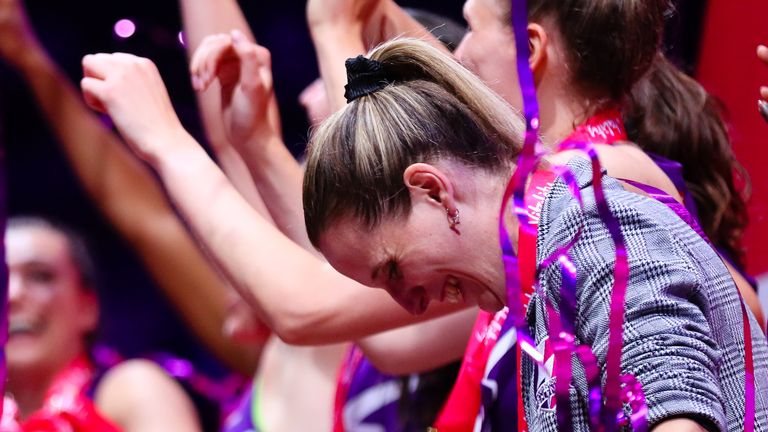 "She's passionate and that's what she brings as a coach," Panagarry said about Francis-Bayman. "She trusts you and she wants you to go out there and give it everything.
"Also, she's honest. Our semi-final performance was a 20-goal win, but she wasn't happy with the performance and neither were we. It's nice and refreshing to have a coach that can say that to you.
"Sara is someone that doesn't sugar-coat it and just tell you want to want to hear. She trusts us and she wants us to be brave. All of the right things, the things that you want to hear from a coach, she does them for us each week."
The account Panagarry provides of Bayman would be echoed by every one of Lightning's squad members, and yet Francis-Bayman has openly shared her own doubts.
"You don't know if you can do something. When I started this job, I had no idea if I was capable of being successful at it," she said.
"I'm forever grateful to Liv Murphy and Vic Burgess, also Karen Atkinson who mentored me through my first year. I'm grateful for them believing in me, helping me and for them being the rational people on the bench. It means an awful lot [to win the title], to me personally, but more for the team."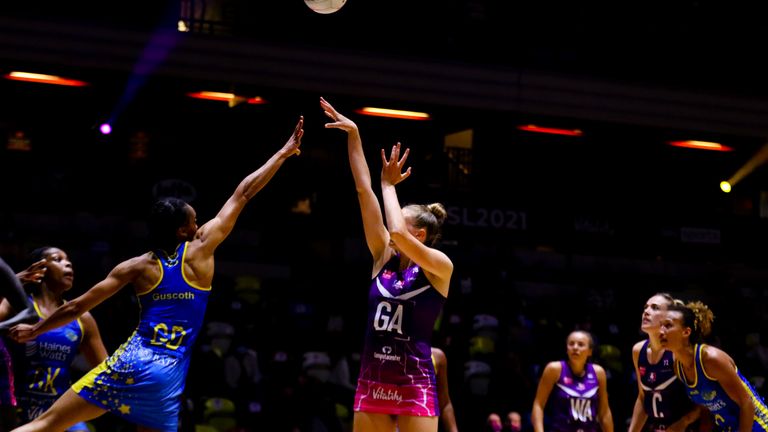 I love that Loughborough stuck to task, they trusted those processes and they did it again! They beat a side full internationals; it was an incredible performance and an opportunity to show what Sara Francis-Bayman can do as a coach and what the players can do out there.
Tamsin Greenway (Image credit – Ben Lumley)
Now that Lightning's long title-wait is finally over, what comes next? Well first, it should be all about taking the time to soak in their achievement and enjoy the moment.
There are so many title-winning athletes and coaches who look back wish that they'd enjoyed it more. You suspect, though, with the culture that Francis-Bayman has created, Lightning will have had an excellent bus journey home and will be continuing to be taking it all in 24-hours on.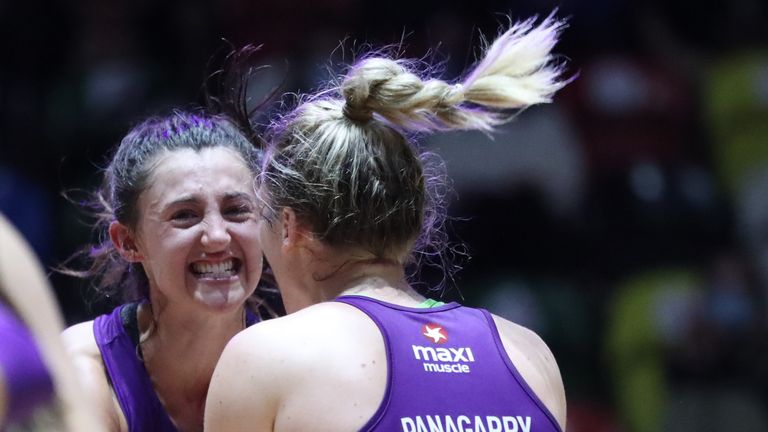 Soon, the focus will turn to the Superleague's signing window and the director of netball will need to assemble her squad for the 2022 season.
Of course, Australia may come calling for Cobden again, perhaps Panagarry and Mary Cholhok too. However, the environment at Lightning is a strong one – an enticing one – and also, behind their stalwarts, Loughborough have talent coming through.
What will attract others to Lightning is the culture that Panagarry speaks of, and a desire to be led by Francis-Bayman and England's technical coach Olivia Murphy.
Winning after winning is a challenge, it's one that Jess Thirlby is looking to address with the Vitality Roses at next year's Commonwealth Games. However, you'd argue that Lightning overcame the greatest challenge of them all on Sunday, as they finally shook off their Grand Final demons and ended their long wait for a first Superleague title in style.
Sky Sports is your home of netball. Follow us throughout the Vitality Netball Superleague's off-season as we bring you all of the latest transfer news and keep you updated with the latest from England's Vitality Roses camp.
Source link