F1
Japanese Grand Prix cancelled for 2021 due to ongoing Covid-19 issues in the country
October's Suzuka race will now not take place for the second year in a row due to the pandemic; F1 understood to have a number of options to fill vacant slot on calendar with final season schedule expected to be published in forthcoming weeks
By James Galloway
Last Updated: 18/08/21 2:36pm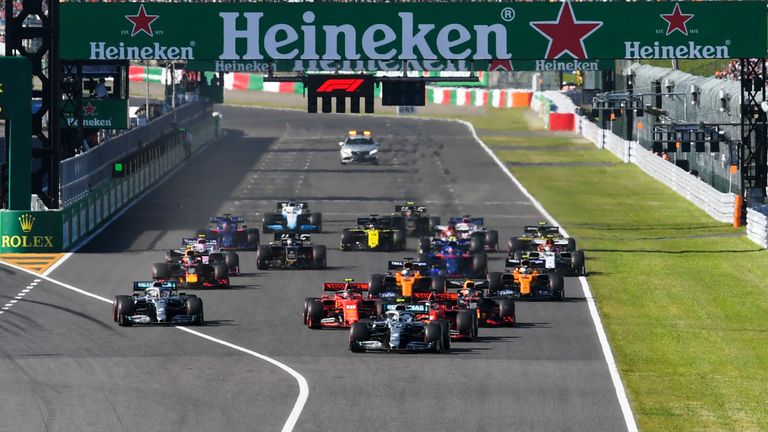 The Japanese Grand Prix in October has been cancelled due to the "ongoing complexities" of Covid-19 in the country.
After discussions with F1 and the Suzuka event's promoter, the country's government have taken the decision to shelve the October 8-10 event for the second successive year amid the pandemic.
F1 is understood to have been planning for such a scenario and have options to keep the calendar at the planned 23 races.
The cancellation of November's Australian GP last month meant there was already one slot free on the schedule.
A finalised 2021 calendar is expected to be announced in the forthcoming weeks.
"Formula 1 has proven this year, and in 2020, that we can adapt and find solutions to the ongoing uncertainties and is excited by the level of interest in locations to host Formula 1 events this year and beyond," read an F1 statement.
What next for the rest of the 2021 season?
Eleven of the planned record 23 races for 2021 have already taken place. Twelve more were originally scheduled to follow in the space of 16 weeks up to and including the season finale in Abu Dhabi on December 12.
The F1 season resumes next week after its summer break with the Belgian GP, the first event of a triple header in Europe which also includes the returning Dutch GP at Zandvoort and then the Italian GP at Monza.
The cancellations of Australia and Japan mean only 10 of the remaining events are currently confirmed, while doubts remain over several more 'flyaway' rounds such as Mexico and Brazil – both of which are also currently on the government's travel red list.
What does the rest of the F1 calendar currently look like?
| Date | Grand Prix |
| --- | --- |
| August 29 | Belgian GP |
| September 5 | Dutch GP |
| September 12 | Italian GP |
| September 26 | Russian GP |
| October 3 | Turkish GP |
| October 10 | Japanese GP |
| October 24 | United States GP |
| October 31 | Mexico City GP |
| November 7 | Sao Paulo GP |
| November 21 | Australian GP |
| December 5 | Saudi Arabian GP |
| December 12 | Abu Dhabi GP |
That list also currently includes Turkey, which is scheduled to hold a race in Istanbul on October 3. But the possibility of different onward travel arrangements amid calendar reshuffles, rather than the need to return immediately to the UK to fulfill the quarantine period, mean F1 retain flexibility on venues and dates.
F1 is understood to continue to have interest from venues not currently on the 2021 calendar.
Title-chasing Honda to bow out without final home GP
While the figure-of-eight Suzuka layout is one of the drivers' favourite, the track is also owned by Honda – engine suppliers of championship-contending Red Bull.
The Japanese manufacturer is leaving F1 at the end of this season and had hoped to enjoy one final race weekend at their own circuit, where Red Bull would inevitably have been in the hunt for victory with title rivals Mercedes.
"At Honda, we are particularly disappointed, because this is the final year of our Formula 1 project and we know that so many fans were looking forward to attending the event," said Koji Watanabe, Honda's chief officer for brand and communication operations
"The 2021 season is now heading for an exciting climax and we will be giving our all, fighting hard all the way to achieve our goal of winning the championships as this Honda Formula 1 project comes to an end and we hope our fans will continue to support us."
Source link